KYOTO launches a $1mn ecosystem grant program to drive sustainable and environmentally-focused Web3 initiatives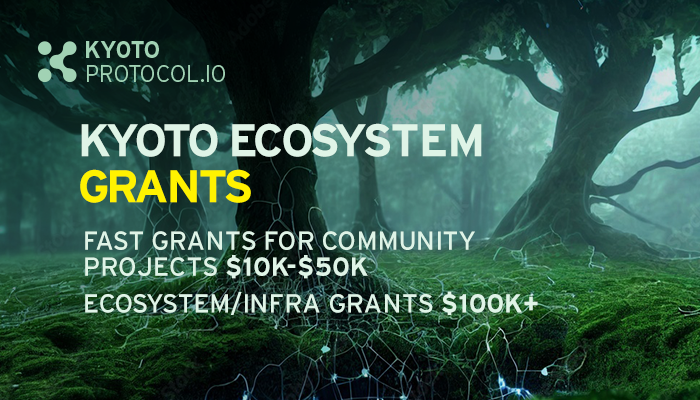 KYOTO, the world's most sustainable blockchain, has today announced the launch of its community-oriented grant program to energize the web3-conscious investment market.
Building an inclusive green economy
In the wake of receiving 1 million dollars in approved funding, the KYOTO Ecosystem Grants Program is specifically designed to accelerate user adoption and utility to the impending KYOTO blockchain while supporting creators looking to invest in carbon-neutral, sustainable initiatives.
Available grants will range between $10,000-$50,000 for community projects and $100,000+ for ecosystem and infrastructure projects, with successful applicants to feature with the release of KYOTO blockchain's main-net migration. The program also seeks to accelerate the Regenerative Finance (ReFi) movement — and the fight against climate change — in the process.
Ashton Hunt, Co-Founder of Kyoto, said of the initiative:
"Our new grant program supports the growth of a holistic ecosystem of innovative projects and environmentally conscious creators worldwide. Meanwhile, the initiative will help to raise awareness and champion the progression of ReFi in Web3."
"We anticipate that the industry will experience exponential growth as creators continue to build in the current bear market. By kick-starting this program, we aim to drive a more industry-wide, collaborative effort that results in lasting, sustainable change."
The rise of ReFi
ReFi is a rapidly growing industry in Web3. Blockchain innovation has not only given us the ability to secure data transparently but also analyze every step of the environmental supply chain, challenging existing financial structures that have long contributed to the climate crisis and inequality. Accelerating carbon markets indicate that ReFi has further massive potential as archaic financial systems mature out of their fossil-fuel-powered legacies in favor of a more efficient, sustainable approach.
Web3 and blockchain technologies play a fundamental role in this transition, providing granular tracking functionality that enables accurate measuring, reporting, and verifiable carbon accounting for the whole supply chain.
How to apply
Applications are currently open and should be submitted directly here.