KYOTO plants one million trees ahead of its launch, in a pledge to become the world's most sustainable blockchain
Regenerative Finance (ReFi) blockchain pioneer, KYOTO, has planted one million mangrove trees along the coastlines of Kirepwe, Diani, and Shimoni in Kenya and Kigamboni in Tanzania, creating 80 new jobs for the respective local communities in the process.
The initiative, which completed in July, ahead of the blockchain's highly-anticipated launch, is a demonstration of KYOTO's ongoing commitment to making a positive impact on the environment.
Carbon negative by design, and cheaper to use than other market competitors, KYOTO is the first to contribute 25% of each transactional gas fee, in order to offset carbon emissions via reforestation.
Over 300,000 tonnes of carbon sequestered before 2075
The environmental benefits of mangroves are manifold. They act as nature's coastal superheroes, playing a crucial role in maintaining the ecological balance of our planet. Incredibly simple to plant, they absorb and store significant amounts of atmospheric carbon dioxide, one of the primary contributors to global warming. KYOTO's project is expected to sequester around 308,000 tonnes of carbon before 2075.
Planted around a foot apart, the new trees span a whopping 28 acres of land in total. Meanwhile, the team has ensured the maximization of life by only planting within 2 meters of a mother tree, wherever possible, whilst factoring in a buffer of 20% extra plants than needed. In addition, the project is harnessing AI technology in order to digitally record each tree planted.
Co-founder of KYOTO, Frank Morey shared his passion for the project, stating:
"This project is a powerful statement of intent, for what we want to achieve in terms of preserving our planet, along with our dedication to the ReFi movement and helping other projects to embark on new and innovative ventures that will ultimately make the world a better place.
"Not only does a significant portion of our transaction fees go directly towards creating a positive impact on the environment around us, those who decide to build on our blockchain are selecting a cost effective network upon which the fees are 100 times less than the likes of Ethereum.
"We had already planted around 30,000 trees via our other ecosystem projects and burgeoning community. Achieving this new milestone of planting a further million, is a symbolic flag in the ground for our ultimate goal to plant a tree for every person on the planet."
The process of planting mangrove trees involves the careful selection of ideal coastal locations, ensuring optimal growth conditions and maximum ecological impact. Through a collaborative effort with local communities and environmental organizations, KYOTO has been overseeing the implementation of sustainable planting techniques that respect and restore this delicate coastal ecosystem.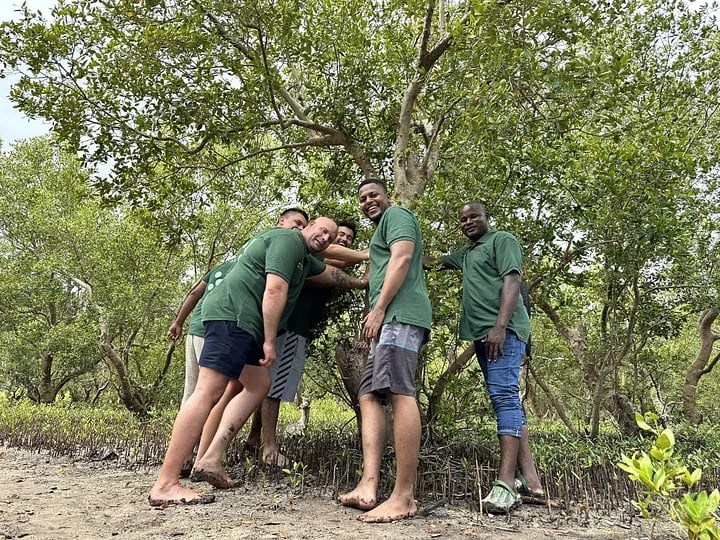 A purposeful step toward a sustainable future
This project is just the first of many positive impact-focused projects in the pipeline. In the future, KYOTO will remain fully committed to protecting areas of our planet that are being particularly affected by climate change and, indeed, areas in which nature is simply unable to protect itself against devastating practices such as increasing deforestation.
Editors' notes:
KYOTO is revolutionizing the Web3 space by intertwining everyday blockchain activities with global ecological impact. It does this by empowering users and developers to effortlessly contribute to a greener world — through routine blockchain activities such as DeFi or NFT's, or by building their project on its highly-anticipated Layer 1 blockchain.
If you are a founder or a developer, looking to build on an EVM-compatible chain, follow us on our socials for news about our developer incentives program and join us in building a better, greener future.