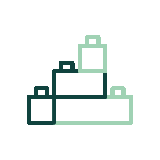 START BUILDING ON KYOTO.
BUILD WITH SOLIDITY AND THE TOOLS YOU'RE ALREADY FAMILIAR WITH SUCH AS REMIX, TRUFFLE, AND METAMASK.
Our blockchain is fully EVM compatible which means you can deploy your dApps in the same way as on Ethereum, in just a few simple steps.
Innovation is the ability to see change as an opportunity - not a threat.